The world that people with autism inhabit isn't just indescribable; in many ways it's unknowable. Sensory sensitivity is just one battle someone with autism may face every day, which makes it hard to process sensory information like sights, sounds, or touch. A fabric used for everyday clothing might feel very uncomfortable to the touch.

Something as simple as a weighted textured pad can be a calming tool to ease stress and anxiety for an autistic mind. It is an unfortunate reality that many of the families in our district do not have the funds or the resources to buy products that help with their child's sensory processing difficulties, which is something almost all children with autism have.

Join us as we make sensory weighted lap pads for X school children with autism. The feeling of gentle, weight on the body called Deep Touch Pressure (DTP) is a safe and effective non-drug therapy. Studies have shown that children with autism benefit in the classroom with better in-seat behavior by calming the nervous system.

Why stop with just sensory weighted lap pads? In addition to making weighted, textured lap pads, we will also have a thera-putty station. Children with autism struggle with social, behavioral and fine motor skills. The thera-putty helps children with autism develop fine motor coordination in their hands and strengthen their hand muscles which will help them become better writers.

Please note that we will not be meeting in the same room as our monthly Meetups, but instead in Room 127.

Snacks will be provided. Music will be playing. Friends are encouraged and invited to join!

This Unified Promise is in support of the Edna and John W. Mosley P-8 School based in Aurora. Their mission is to support students to tap into their strengths, acquire skills to cope, harness their adversity, and be prepared for future challenges.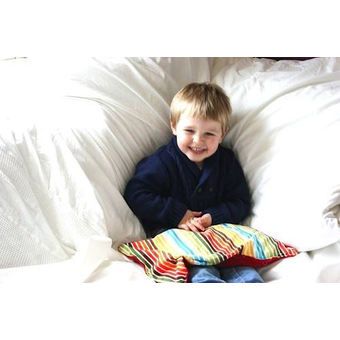 101 Monroe St, Denver, Colorado 80206