Help Write Their Story: Book Drive for Kids in Need
All children deserve to grow up with books – and lots of them. However, 61% of America's low-income children are growing up in homes without books. Books in the home are the single biggest indicator of academic success — surpassing income, parents' education, family composition, and all other factors. Academically, children growing up in homes with no books are on average three years behind children in homes with lots of books.The most powerful and highest-impact way to improve the reading achievement of economically disadvantaged children is to increase their access to books. 

On December 18th, twelve volunteers of the Denver Chapter hosted a book drive of new or gently used books for children in need at the Sheridan Library. They collected, sorted and donated 100 books as well as made fun bookmarks for local foster children, homeless shelters as well as organizations that work to provide books to low income children like Family Tree and Reading Partners Colorado.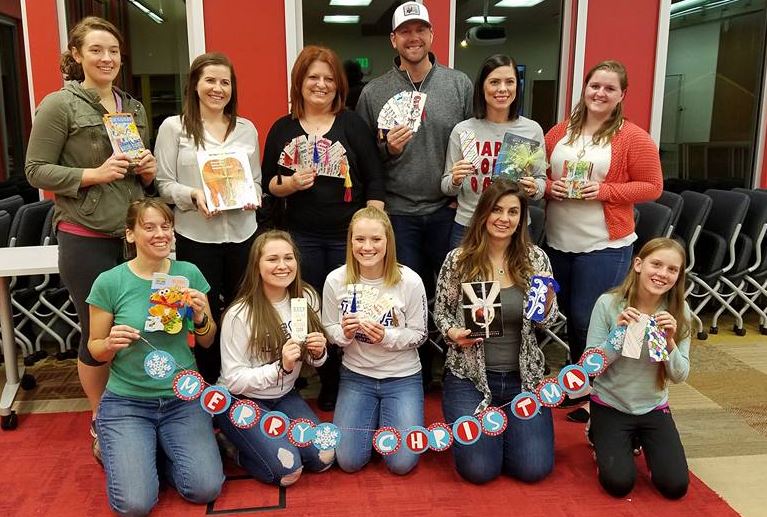 Chili, Football and Fun!
It is hard to live with any type of normalcy when your child is ill. The stress of being away from home, dealing with tests and treatments makes everyday life difficult. The Denver Chapter teamed up with The Ronald McDonald House to help families by serving a home cooked chili dinner.
While these families are coping with having a sick child, we wanted to surprise them with warm, comfort food and some smiles! Plus, we created a fun tailgating theme for football season.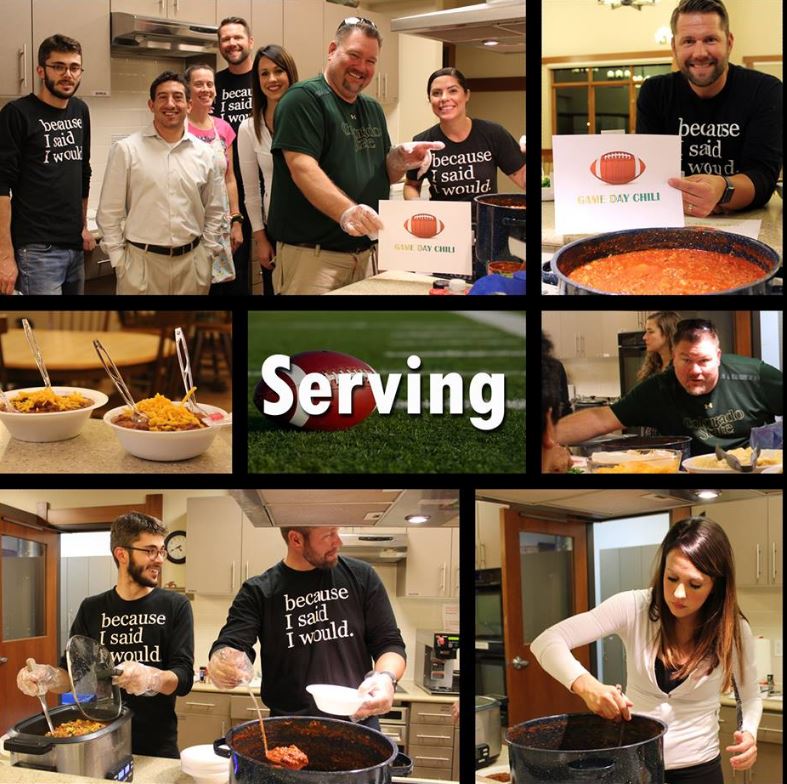 Sock Trick or Treat
When it comes to helping the homeless, we typically just think of donating food. But, did you know that socks are actually the most needed item at homeless shelters? The Denver Chapter donated socks to children and teens at a local homeless shelter, The Family Tree. On October 23rd, we came together as a group to fill the socks with Halloween candy to add sweetness and smiles to their day. We also summoned our inner artist to make unique Halloween grams!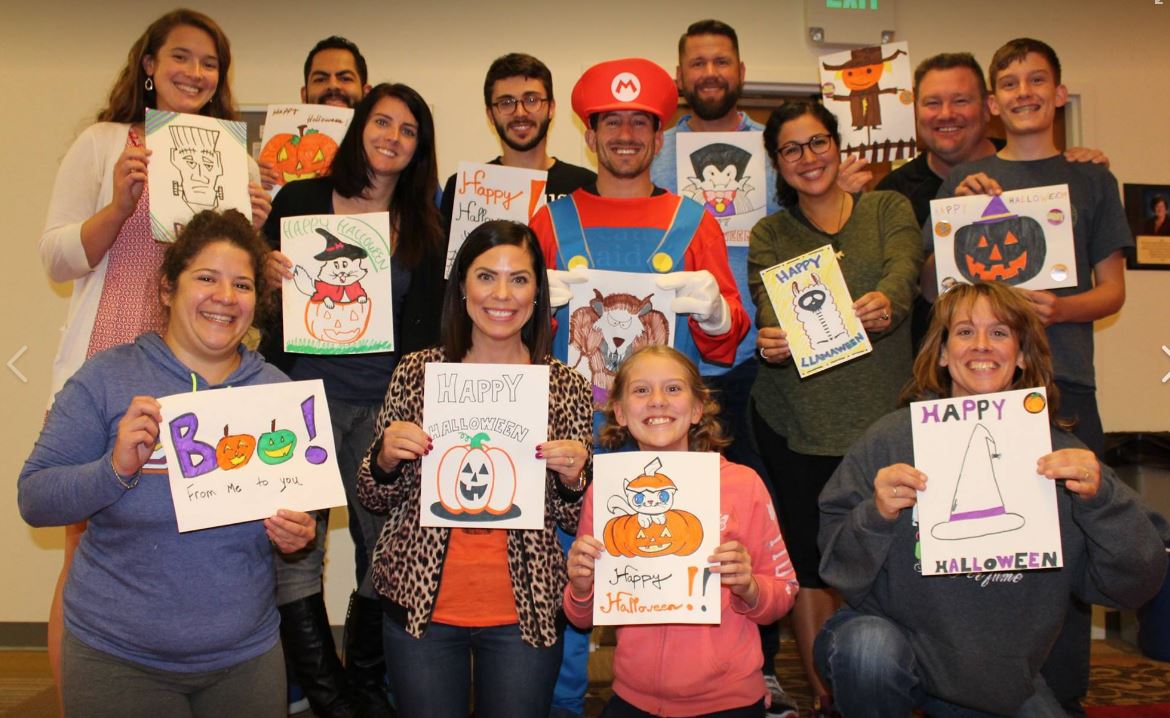 Have a Heart, Save a Life
Did you know each year about 357,000 Americans have sudden cardiac arrest outside a hospital... and only about 12% of victims survive?? CPR can nearly triple these victims' survival rates by helping until the EMTs arrive. In the matter of only two hours, you can learn a life saving skill and become CPR certified. 
On September 19th, twelve Chapter members participated in a CPR training class at South Metro Fire Rescue. One of their Life Safety Educators led and conducted the two hour session which included video guides, hands on practice, and a final exam.  Afterwards, everyone received their certification and were given a tour of the fire and ambulance 24 hour dispatch center.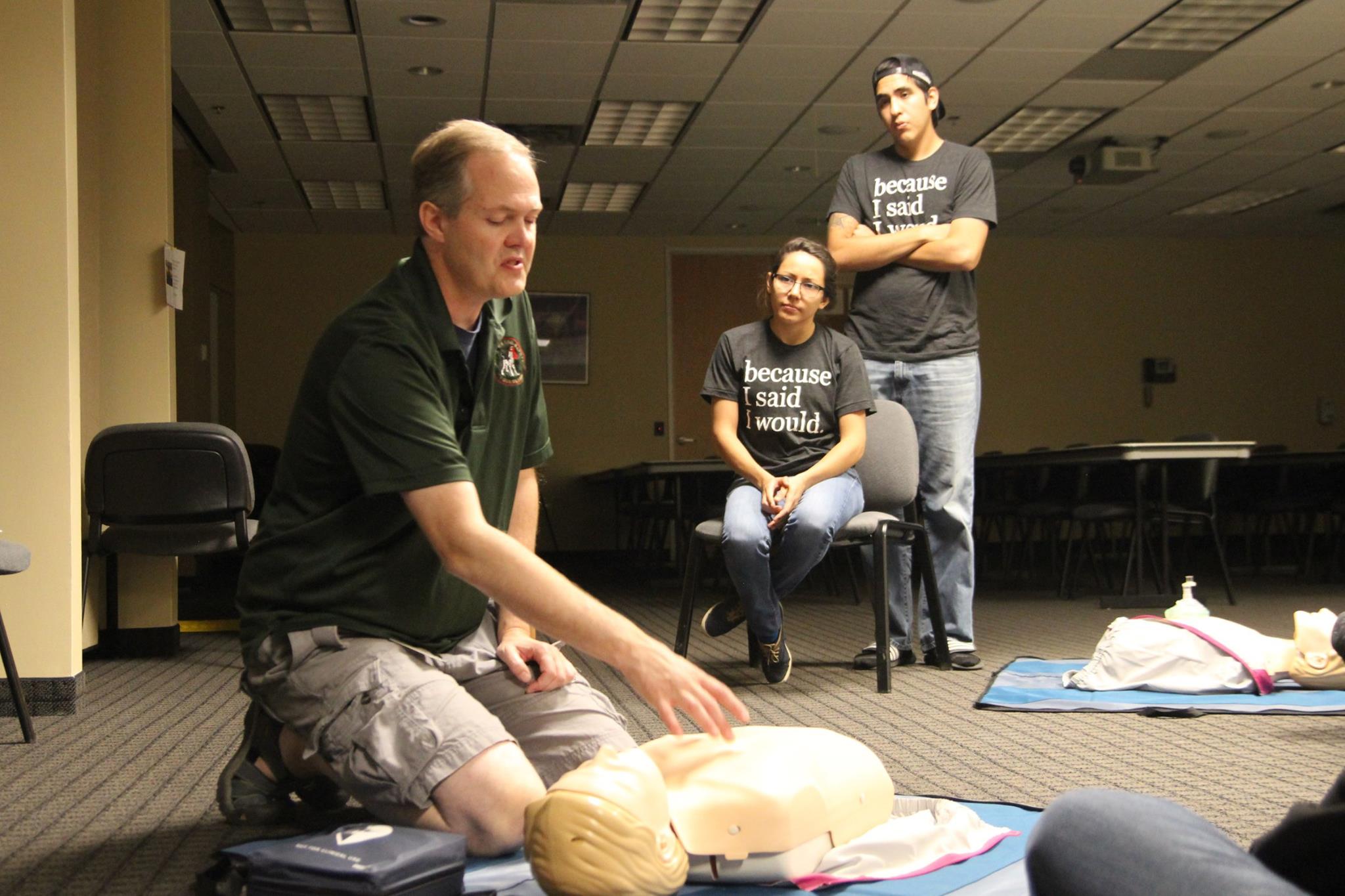 Down By The Riverside: Clean Up and Cookout
Litter is an unsightly, and hazardous problem in all communities and areas. However, litter in waterways is even more dangerous because it affects water quality and wildlife. Even though Denver appropriately prides itself on being a green city, the reality still exists that the South Platte River and its tributaries are a default trash receptacle for the city. Currently, the river does not meet the EPA's Clean Water Act to qualify as a swimmable/fishable river.
On August 19th, the Denver Chapter hosted a trash cleanup along the river. Afterwards, volunteers stuck around for a cookout to get to know each other better. There was BBQ, games, and a raffle. August 19th was also World Humanitarian Day as well, so the timing to get out and do something good for the community was perfect!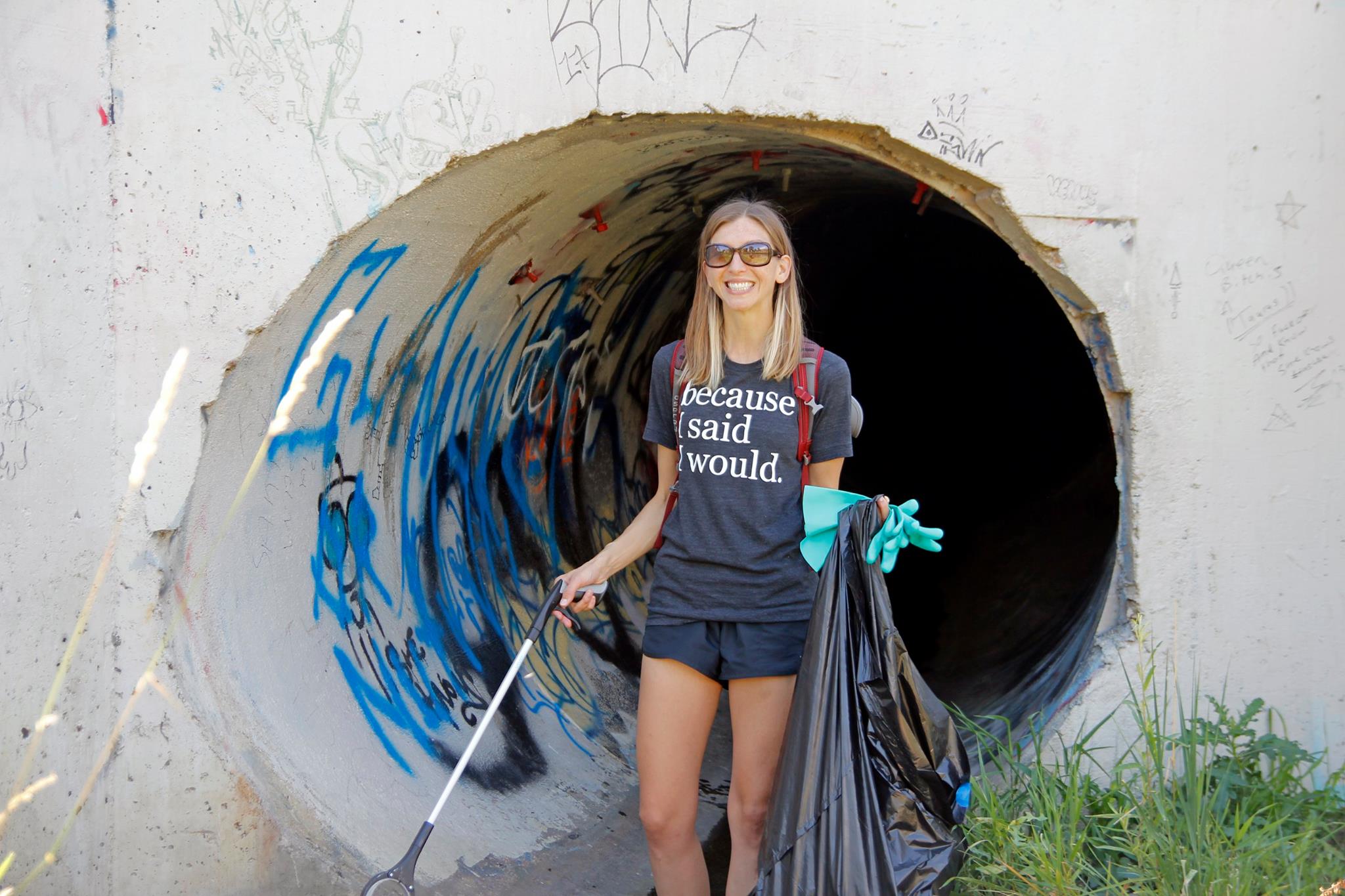 Cystic Fibrosis Mile High Climb
On July 22nd, Denver Chapter volunteers gathered at Sports Authority Field at Mile High to help raise awareness for Cystic Fibrosis. Members helped give out water at stations and several members participated in the climb itself. Everyone who joined us made a difference to a great cause!
The Cystic Fibrosis Climb raises nearly $2 million to help support life-saving research, care, and education programs. Real progress toward a cure has been made, but the lives of people with CF are still cut far too short.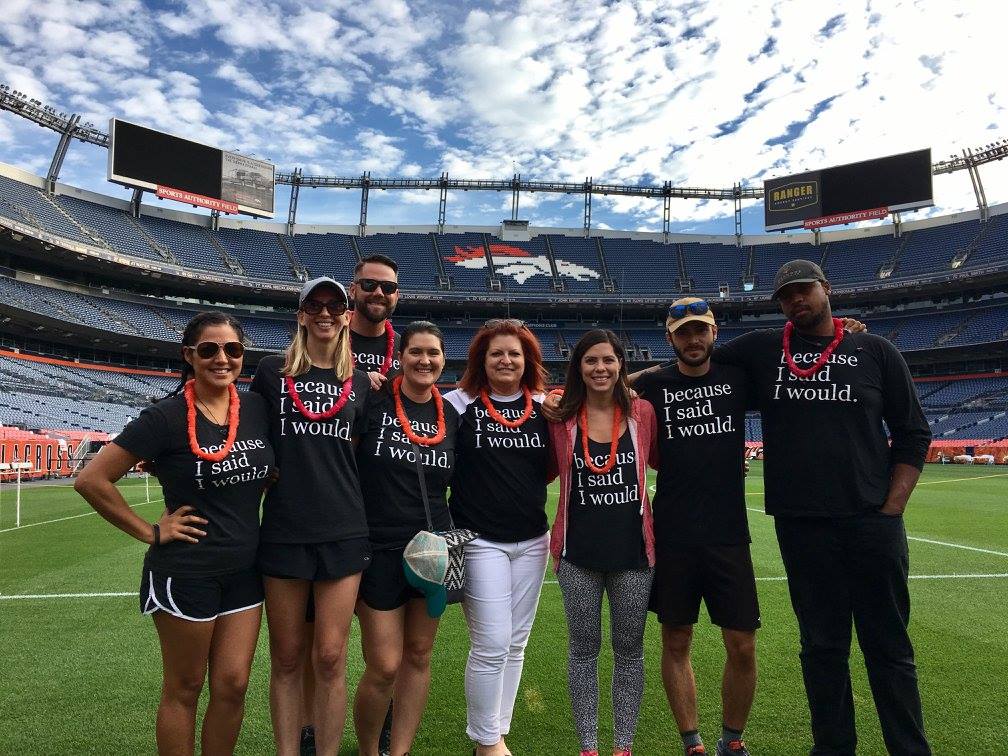 One Million Meals For The Homeless 
Our June Unified Promise was a huge success! Together our Denver Chapter was able to package and hand out over 100 heart healthy meals for the homeless! Over 15 volunteers showed up on Saturday June 24th to assemble, and pass out meals outside of local area shelters. As a bonus we had dog treats to hand out to their furry friends! 
Volunteers enjoyed getting to converse with individuals and share some information on the importance of heart health! Our guests we're so appreciative of the meal and we are so happy with the turnout. By providing a meal to those less fortunate, we were able to learn more about them and the struggles they face. Together we were able to make a difference in the Denver homeless community. Thank you to everyone who came and volunteered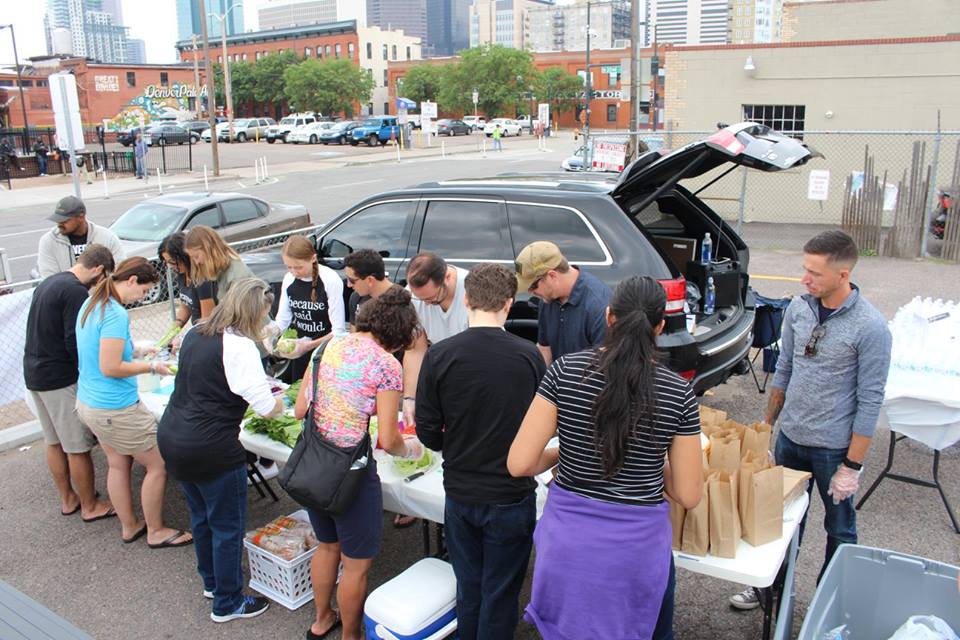 Going the Extra Yard: Senior Yard Clean Up
For many senior citizens everyday upkeep is not as easy as it once was. Mowing the grass. Raking leaves. Planting flowers. These activities are no longer things they are capable of doing alone. As we all grow older we will have to ask for help- however it is important to remember that not everyone has family or friends they can call on in this time of need. That is why because I said I would Denver, decided to be that helping hand to three local seniors.
Three groups of volunteers, totaling 20 overall, split into groups to clean up the yards of three senior homes. Together each group raked and cleaned the yard, per the home owner's requests. Volunteers also planted flowers, fixed windows, and gave each yard their very own because I said I would yard sign!
However it was much more than a yard clean, as members got the chance to talk and get to know their seniors. Our homeowners, Joanna, Kathleen and Don were amazing individuals who were so appreciative of our help. They shared stories with us and made this experience so worthwhile.
After the event, a quote from one of the seniors was shared with us by Senior Hub, the organization that helped connect us with our senior home owners.They shared, "That was the greatest group of people. They went above and beyond.  Wow. They were just incredible.  I've never had a group like that before.  Thank you! "
We are so happy to have been able to get to know these individuals and give them a yard to be proud of. A big thank you to Senior Hub and to our volunteers for showing up and making a difference in these seniors' lives.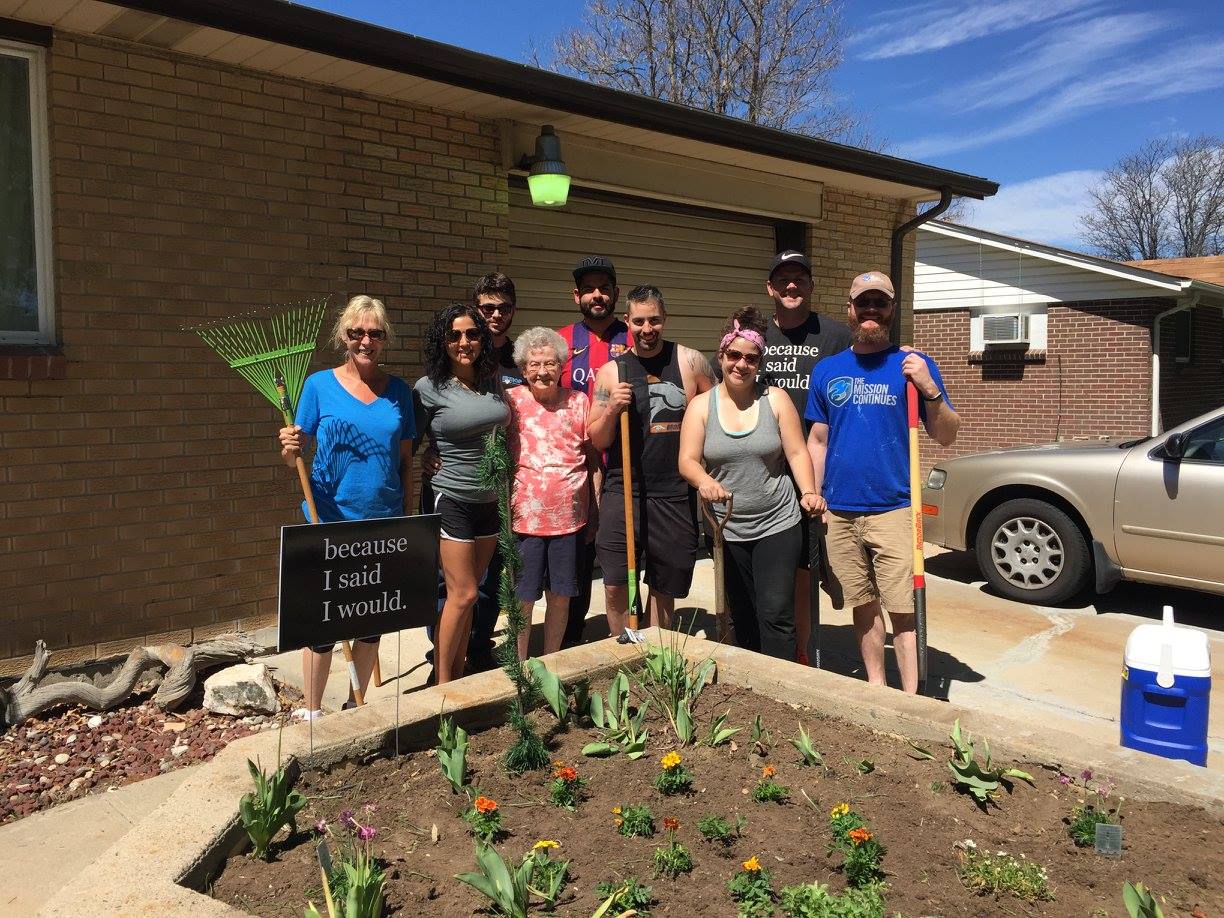 Carrying the Weight of Autism Together
The world that people with autism inhabit isn't just indescribable; in many ways it's unknowable. Sensory sensitivity is just one battle someone with autism may face every day, which makes it hard to process sensory information like sights, sounds, or touch. Something as simple as a weighted textured pad can be a calming tool to ease stress and anxiety for an autistic mind. 
It is an unfortunate reality that many of the families in our district do not have the funds or the resources to buy products that help with their child's sensory processing difficulties, which is something almost all children with autism have. For our April Unified Promise, our Chapter members came together to make sensory weighted lap pads for every single student with austism at Edna and John W. Mosley P-8 School.   
Thirty lap mats were made in the two hours our Chapter members met. Whoever says sewing is a woman's 'job', doesn't know our members! Two of our male members learned to sew for the first time. Chapter members took it one step further, personalizing and decorating the bags in which the lap mats were packaged. We hope these students know that we care and it's a small way to lesson the struggles these children face on a daily basis.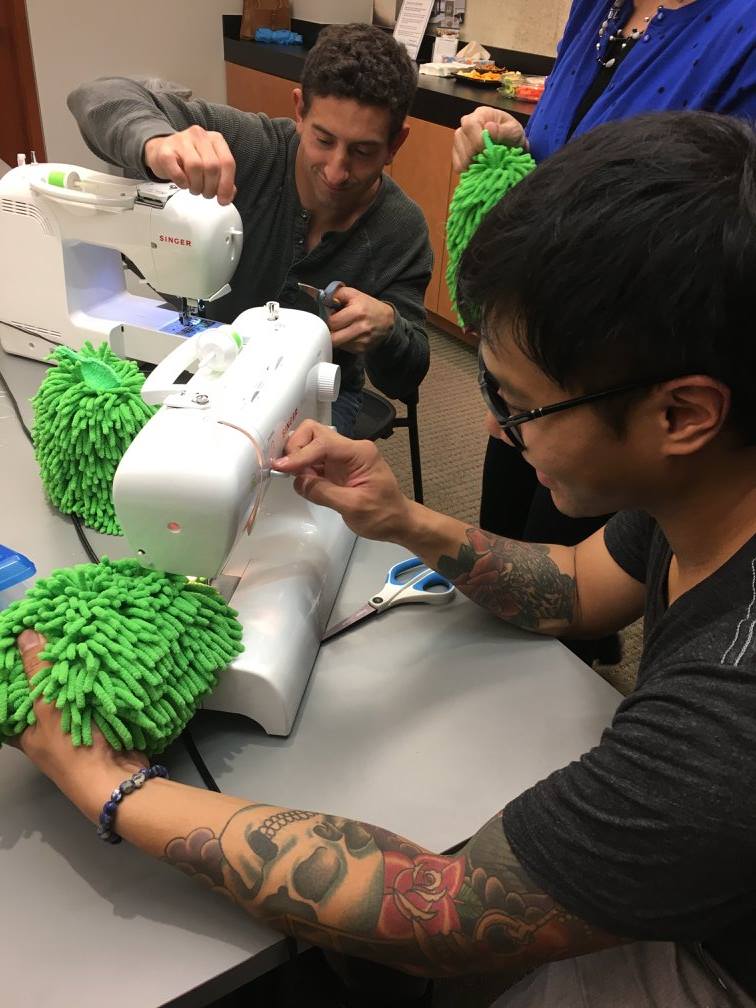 Fulfilling Our Promise So They Can Fulfill Theirs
Project C.U.R.E. (Commission on Urgent Relief and Equipment) was founded in 1987 by James Jackson, who was working as an international economic consultant in developing countries when his work put him face to face with the needs of the sick and dying. During a trip to Brazil, Dr. Jackson visited a small clinic near Rio de Janeiro, where he learned that patients were often turned away due to a lack of basic medical supplies. Jackson was moved to action, making a promise to the clinic doctor that he would help provide relief to the people there. Since then, Project C.U.R.E. has become the largest provider of donated medical supplies and equipment to developing countries around the world.
He made his promise, and it was our Chapters' turn to make ours. Seventeen of our Chapter members came together to sort medical supplies, along the way delivering health and hope to the world. Two to three cargo containers of life-saving aid leave Project C.U.R.E.'s warehouses every week, and our Chapter members were part of making that possible.
Special thanks to our three new volunteers that joined us, and the tour given to our Chapter members to learn more about the life-saving work of Project C.U.R.E.!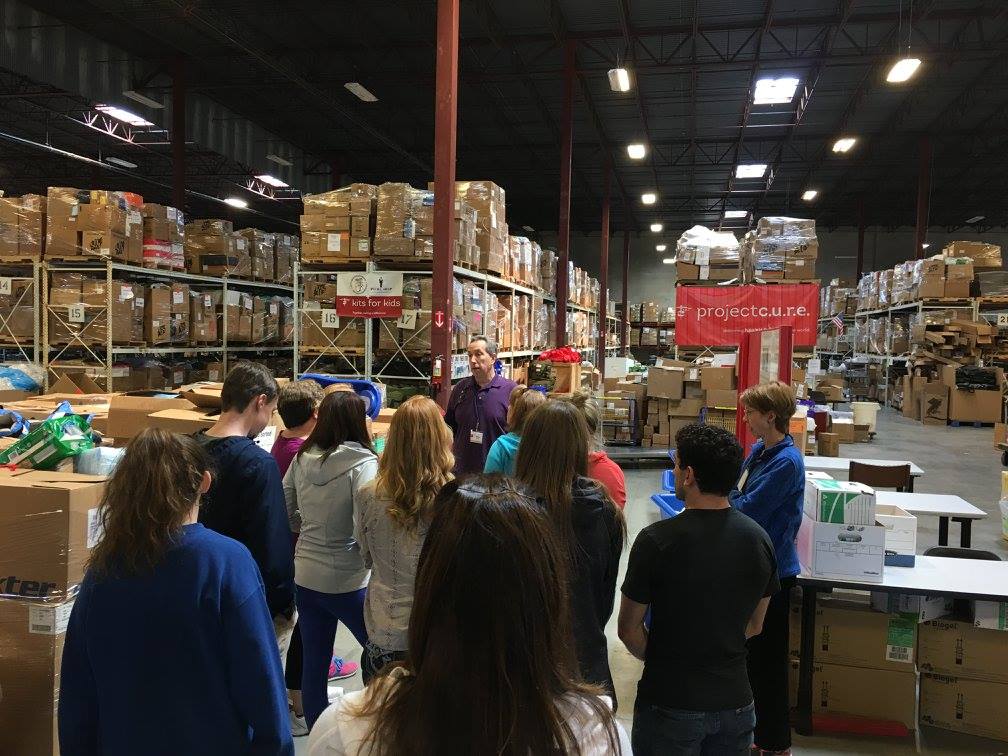 Giving Love, Giving Blood this Valentine's
Donations are the only way of obtaining blood – blood cannot be made! Blood donors play a vital role in the healthcare of patients in our community. 37% of the population is eligible to donate blood, yet only 5% actually do.
We decided to change that…
Twelve volunteers signed up and thirteen showed up to our February Unified Promise at the Bonfils' Lowry Community Donor Center to give blood together as a Chapter.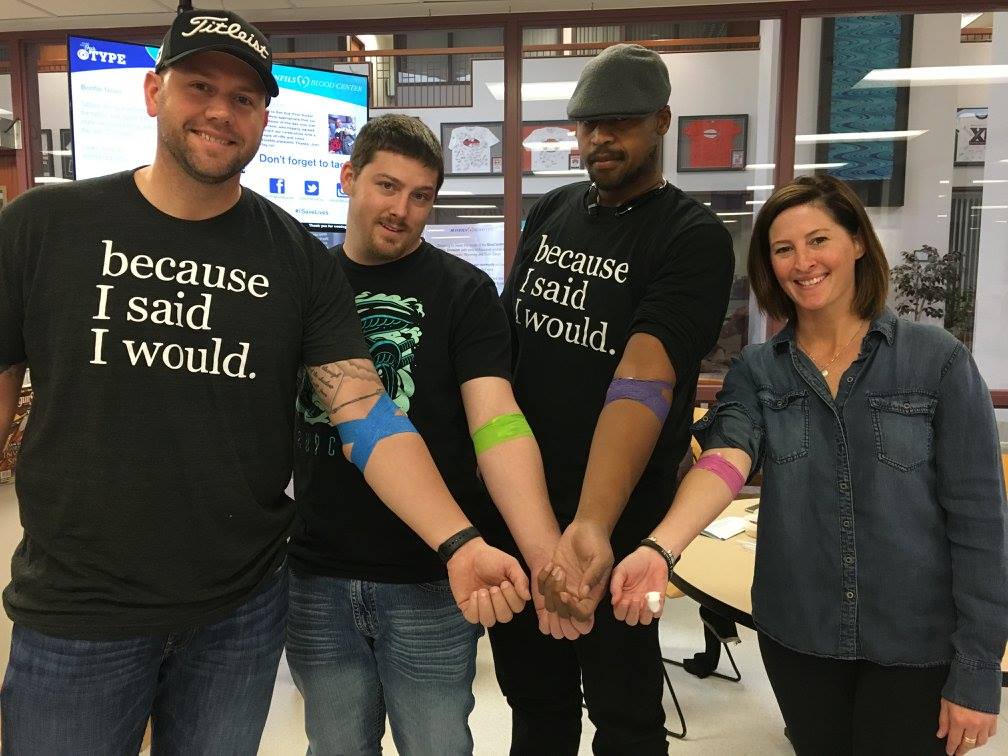 We highly encourage those who were not available on that date to visit Bonfils to give the gift of life. The need for blood is constant, so is the need for donations. Donating blood is one of the easiest ways to volunteer and give back to your community. You may even be a little nervous, but don't worry! Giving blood is a safe, simple and rewarding experience. 
Building a Better Future
Denver is a great place to live. With more and more people moving to our beautiful city, one negative effect is the impact it's having on our housing market. We keep reading about the rising costs of housing in Denver, the lack of affordable options, and the impact this is having on lower and middle income residents. A recent Denver Post article shared that an earner now needs to make $35 an hour -- more than four times the minimum wage -- in order to afford the median priced rental in Denver. This cost is out of reach for so many people in our community.
For our January Unified Promise, we had 9 volunteers give 67.5 total volunteer hours to support of our local Habitat for Humanity of Metro Denver. We repaired homes across two locations, Globeville and Sheridan. Because of our commitment, low-income homeowners can continue to live in safe and affordable homes.
Welcoming Refugees to Denver
Refugee children and families have lost everything they know, love, and need to survive and thrive. While the reasons and the regions may vary, the story and desperation are the same. Having fled their home countries and languished in limbo for months, or even years, refugees arrive to the United States with next to nothing.

We helped restart their household by packaging a Welcome Kit with things a family needs.  Our Unified Promise was in partnership with the nonprofit organization, African Community Center of Denver. They help refugees rebuild safe, sustainable lives in Denver through supportive networks of people, service and community activities. The African Community Center of Denver was created in May 2001 beginning with only 3 staff members resettling 60 refugees. They have since grown into a staff of over 50 compassionate employees who serve over 580 refugees, asylees, and secondaries each year!​
Judi's House: Serving Grieving Children
Members cooked a homemade dinner for 65 children and their families in partnership with Judi's House. This local organization supports the Denver youth in wonderful ways and we couldn't be happier to be welcomed into their community! 
Judi's House is the only free-standing organization in the Metro Denver area devoted solely to supporting grieving children and their families.
Since 2002, Judi's House has supported more than 8,000 youth, ages 3-25, and their caregivers, toward our vision that no child should be alone in grief. 
Thanks to the generosity of our donors and investors, there is no cost to families participating in Judi's House services and programs.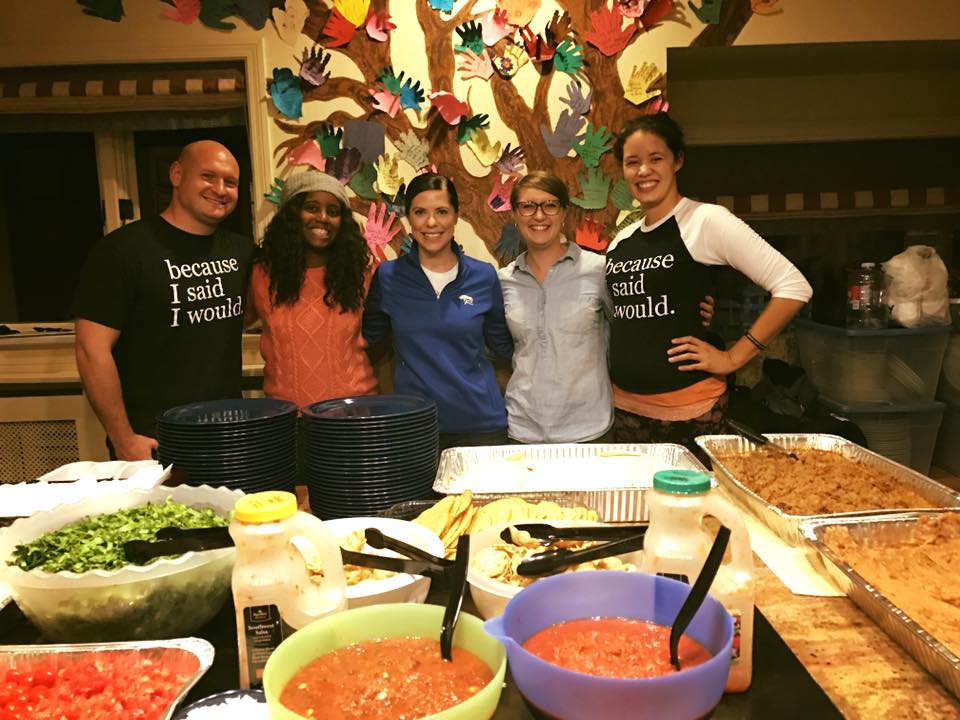 Goodwill Donation Drive Success!
Members were encouraged to go through their belongings and donate items that were no longer used or needed. Members brought their items to this month's chapter meeting to be donated. 
National Bone Marrow Donor Registration.
Every three minutes someone in the United States is diagnosed with a blood cancer like leukemia. For many, their only hope for a cure is a bone marrow transplant. Our Denver chapter held a registration event for the National Bone Marrow Donor Registry at one of our monthly meetings. Members simply swabbed their cheeks and filled out the paperwork for this important lifesaving cause. This unified promises was inspired by Sam and Alex Kimura, two girls who sold their cars, bought a van and toured the country trying to save lives through this registry. See their story here: http://becauseisaidiwould.com/samandalex

Join today!
Make a difference in your community!