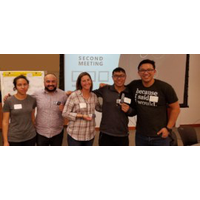 Welcome Matt Savage: Denver Chapter Leader!

We are so excited to announce to the Denver community that Matt Savage has officially been selected as our Denver Chapter Leader! Matt's selection was announced at March's Meetup and we are thrilled to have him as a part of our team.

Matt's enthusiasm and commitment to the movement will help him lead and grow our impact and outreach in the Denver community. To learn more about Matt, and the rest of our team check out the team bio page live on the Denver website.

CLICK HERE TO VIEW DENVER LEADERSHIP TEAM
The Point of No Return Analysis

Circumstances in life inevitably change, and things don't always go as planned. So, instead of panicking, not showing, or breaking your commitment, you need to recognize your Point of No Return and take action.

At this month's Meetup, members learned how to take the necessary steps to identify, avoid and prepare for reaching this point.

To help members get better at creating and keeping their promises, they performed an interactive exercise as a group with different Point of No Return scenarios.

Want to try it for yourself? Download our "Point of No Return" exercise sheets below.

CLICK HERE TO VIEW THE POINT OF NO RETURN EXERCISE
"The Biggest Promise"

This month's promise story features a supporter who made one of the biggest commitments one can make- to get married.

Despite her hesitations, the wedding was planned, the dress was bought, the invites were sent out. Watch the ending of her story to see what happens when you pass the Point of No Return!

CLICK HERE TO WATCH "THE BIGGEST PROMISE" VIDEO

This video is part of a series of promise stories from the lives of everyday people. We believe a video can convince people around the world to make a promise to better humanity. We believe this series, titled "A promise story," will inspire our followers to share their stories with us.

Looking for our other 90+ videos? CLICK HERE










| | | |
| --- | --- | --- |
| | | |
Members who completed the task of attending two Chapter Meetups

were awarded their Second

Meetup

Achievement Badge.

We thank them for their commitment to our Chapter Program and congratulate them on their achievement. Check out all the photos from the meetup at the link below and tag yourself in any photos!
Give Love, Give Blood

On February 11 th, Denver Chapter Members came together to give blood at the Lowry Community Donor Center.

Together as a Chapter we were able to make a positive impact in our community and help save the lives of those in need.

Each Chapter members' donation will help save the lives of 3 people! A big thank you to all of our Chapter members who gave blood as a part of our February Unified Promise.

Check out photos from our February Unified promise at the link below! Be sure to tag yourself in any of the photos.
Delivering Health and Hope to the World

Project C.U.R.E. was founded in 1987 to help meet the need for medical supplies, equipment and services around the world.

Project C.U.R.E. has delivered medical relief to needy people in more than 120 countries. Please join us to

deliver health and hope to the world as we team up with Project C.U.R.E. for our March Unified Promise.

We need 20 Volunteers for this Unified Promise on March 18th from 1:00 PM to 3:00 PM. We will be sorting medical supplies, that will be sent to those in desperate need. This will be a fun, engaging and hands-on experience.

All volunteers are required to use Project C.U.R.E.'s online registration tool to register for this event. Please click the RSVP link below to see directions on registering.

Don't miss out on this amazing opportunity to help save lives around the globe! RSVP today and reserve your spot.


RSVP FOR THE MARCH UNIFIED PROMISE

| | | |
| --- | --- | --- |
| | | |
Needed: Denver Leadership Team

We are still looking for volunteers to help fill two open leadership positions for the Denver Chapter of because I said I would.

See open positions and responsibilities below!




Collect content for the local Chapter & Unified Promises

Determine best practices

Capture Chapter members' individual promise stories

Promote chapter through partnerships

Manage social media page

Event marketing
---